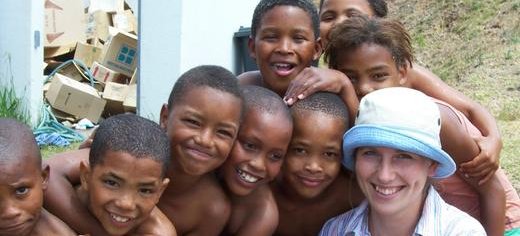 We were able to locally collect and distribute ZAR 3,191,584 worth of goods during 2007 (approximately 280,000 euros). This amount includes 5,350 toys, 1,002 baby items, 25,132 articles of clothing and pairs of shoes, and over 35,000 kilos of food. This amounts to a daily average of almost ZAR 9,000 (approximately 800 euros) worth of goods and food reaching those who need it most.
Some letters of thanks we received in 2007:
A huge thank you for the marvellous donation of prams, clothes, toys, lamps, etc. Everything will be put to good use, and the children are going to be so excited. It was like Christmas all over again. It is only with the help of people like you in the community that we are able to continue the work that we do. Your kindness and generosity is much appreciated. (Sister Inc.)


Thank you so much for the wonderful gifts that you blessed us with. Each baby dressed in these clothes experiences the love of our heavenly Father. We believe that healing comes to these little ones as they snuggle up in their new outfits. Thank you for being willing instruments in our Lord's hands. (New Life Centre)


On behalf of the staff and children at Sarah Fox Children's Convalescent Hospital, we would like to say an enormous "THANK YOU" for the wonderful and generous donation which was delivered to our hospital. The crockery, silverware, glasses, mugs, cups, bowls, and food are such needed items. Our needs are great and we are very grateful for all the kindness you have shown and the constant support that we receive from your organisation. (Sarah Fox Hospital)


Thank you so very much for your kind donation of books to our school. We really do appreciate it very much indeed. The books will be put to very good use. (Vista Nova School for Challenged Children)


The management committee and residents of Andries Olivier Durbanville Quadriplegic Center would like to thank you and express their appreciation for the donation towards the Center. Our Center is largely dependant on fundraising projects and donations for our daily functioning. Hence our sincere appreciation for your interest and contributions. (Andries Olivier)


To all at Helping Hand: Thank you very much that you gave a February "Christmas" to our children. The great variety of toys and food is truly appreciated. (Tygerberg Hospital School)


We hereby wish to thank you for your generous donation of children's videos. We appreciate the fact that you are interested in the work that we do with traumatised children. The videos are especially appropriate for use with children because they carry a positive message about the importance of good relationships and positive attitudes. We use the videos for patients in the hospital, as well as for groups of traumatised children. Thank you once again for your kind donation. (Tygerbear Social Work Unit for Traumatised Children)


A note to let you know how much the children in the Cancer Ward are enjoying the videos. The TV is an important part of life when a child is attached to an intravenous line and confined to bed. I am sure these entertaining gentle videos will bring much joy and interest to these little lives. Many thanks for allowing us to have them. (Red Cross War Memorial Children's Hospital)
Originally Published in 2007.