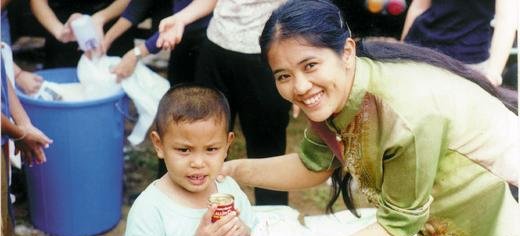 Members of the Family International (TFI) have been active in Christian mission and humanitarian work worldwide for over four decades. For an in-depth view of members' mission works, please visit the profiles for each country or region.
The Family International is committed to spreading the message of God's love and hope, and putting this message into action. Members endeavor to follow in the footsteps of Jesus, whose ministry was to "preach the Gospel" and to "heal the brokenhearted." (The Gospel of Luke, chapter 4, verses 18–19)
For decades, members of TFI have aided the disadvantaged through a variety of programs in their local communities, providing humanitarian assistance for victims of disasters; medical, food, and clothing aid to the underprivileged, homeless shelters, food kitchens, and refugee camps; visitation programs at hospitals, orphanages, prisons, and institutions for juvenile offenders.
Through their humanitarian assistance to those in need, our members have strived to provide spiritual support to people from all walks of life. Today's world is a complex, materialistic one, in which the important values of love and faith are often neglected. Family International volunteers have endeavored to meet the need in their local communities when possible.
Mission works of members of the Family International are independent and autonomously managed. The mission works featured in each of the regional sections represent a sampling of projects conducted by members around the world over the past two decades. Some projects are currently operational; others have concluded or represented a short-term project.