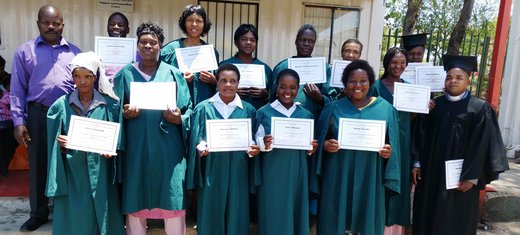 The Family Africa Bible School has been running successfully for several years. In the past year we completed more courses and extended our scope to new areas. In 2018, 100 people graduated from our courses, and a total of 500 certificates have been awarded since the Bible School began.
We have students in different parts of Johannesburg, including Soweto, which is 40km from our Bible School base, and another group in Pretoria. We also have affiliates throughout Africa who are working toward running a Bible School in their own country.  We have also been prison chaplains for the last 15 years and run courses at the local prison several times a week.  Courses have also been running for students in the local schools.
We are blessed to have found someone so committed to the courses (see Honest's story below), which has really helped to make the Bible School the success it is today. Check out the overview of our Bible School here.
The new Bible Teachers Course
As we have many students who have completed either all the other courses or most of them and have potential to be teachers themselves, there was a need to help equip them to be teachers to teach others to teach others (2 Timothy 2:2), ensuring they are familiar with the courses and know how to teach with patience and love. The idea is also that they can mark their students' tests (as we supply answer keys with all the courses for the teachers).  
The new Pastors Course
We have found that one of the greatest needs in Christian evangelism is structured Bible-based training from teaching new converts through courses which ground their faith in the Word of God right up to the need for training mature students for discipleship and a ministry for the Lord. Throughout the African continent, despite a desire to accomplish a successful Christian ministry, there are many pastors who have not had the opportunity to receive thorough training, either because of their location or lack of funds. We do our best to fulfill that need through our free-of-charge courses.
Reactions to the Family Africa Bible School
From Honest:
My name is Honest Mlanguluka Banda. I am the pastor who helps to run The Family Africa Bible School. I have started a church (with the help of The Family Africa) and the church now has 240 members and is the fastest growing church in our area. I want to share my testimony about what I get from The Family Africa Bible School, whereby I was studying the book called the 12 Foundation Stones course. This book was wonderful; this book is full of the power of God. In all 25 classes of the book, I didn't find a class that was hard. At the same time, each and every class of the book was pushing me to a higher level, whereby I found it was a privilege for me to have been introduced to the course by The Family Africa. I studied the 12 Foundation Stones course from June 2011 to June 2012 and graduated in June 2012.
Today I am an equipped pastor who is preaching the word of God with understanding, because of the 12 Foundation Stones course that has changed my life forever and ever. In this book, I learned things that help my personal life and how to help others in their personal lives.
With thanks, Pastor Honest
From Sandra (who has completed many of the courses):
I'm one of the students who was studying the 12 Foundation Stones. I enjoyed the course very much. The teacher, Pastor Honest Mlanguluka Banda, was the best. He was very patient with us and I enjoyed his lessons. I learned to read the Bible every day and meditate on it. I also learned to memorize the verses in the Bible. Now I can witness the Word of God to other people with boldness.
I learned to love other people and to live my life as a true child of God. I can control my temper and my tongue. My life reached a turning curve because of the course. I have grown spiritually. When challenges come, I know which verses to read and I always know that prayer is the solution. The 12 Foundation Stones course is an equipping book that I love to read day and night. God has given me wisdom and understanding of His Word.
Published in 2019.