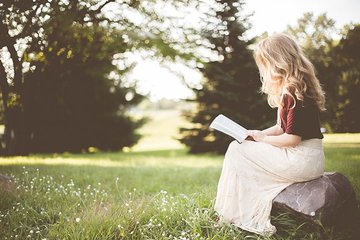 One of the very best habits you can ever form is that of spending a little time each day reading and studying the Bible and Bible-based Christian literature. Start by devoting 15 minutes a day, and then increase it to 30 minutes or more as time goes on. As you read God's Word and try to follow it, your life will become deeper, you'll be happier and have more peace of mind, and you'll have more love for and understanding of others. It doesn't all happen in one day, but it does happen.
Having an ongoing reading project—reading through all four Gospels or the New Testament or the Book of Psalms, for example—will help you get the most out of your daily Word time. One idea of a daily study plan that offers some variety is as follows:
One chapter from the Gospels (Matthew, Mark, Luke, and John).
One chapter from Psalms.
Half a chapter from Proverbs.
When reading through the Bible, pray for the Holy Spirit to help you understand what you read, but don't worry if you don't understand everything the first time you read it; no one does. Keep at it. The more you read the Word, the more you will understand, and often when going back to reread a certain passage, you'll find new meanings and "treasures" that you hadn't noticed before.
In order to help you understand the amazing truths in God's Word and get the most out of it, we've put together articles here in Faith Foundations that cover the various aspects of Christian life. The object of these articles is to help you know how to apply God's Word in practical ways, as well as to help you develop a more personal relationship with Him so you will be better equipped to face the ups and downs of life.
For more articles from Activated Magazine, visit Activated.